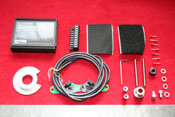 Complete electronic ignition kit containing alternator mounted ignition pickup, fittings and amplifier unit. Works with standard 12 volt coils and can be used to replace points or Bosch electronic ignition on models with Bosch charging systems. The pickups for this kit are mounted on the alternator stator. Supplied with instructions in German with wiring diagrams.

2 year warranty on Sachse ignition kits

Eliminates vague timing due to worn distributors on big twins. Preloaded with nine ignition curves, two ofwhich are designed for twin plugged bikes. Once fitted no further adjustment should be necessary. See this link for fitting instructions. If you wish to combine this kit with uprated charging system ELA00502 you will need to make or source longer studs (M5 x 67mm x 2) for pickup, and longer centre bolt (M8 x 58mm wasted).
This item can normally be supplied within 1-3 weeks, if you would like to be emailed once this item is available again then email us. If you would like to reserve this item please call us on 01484 841395